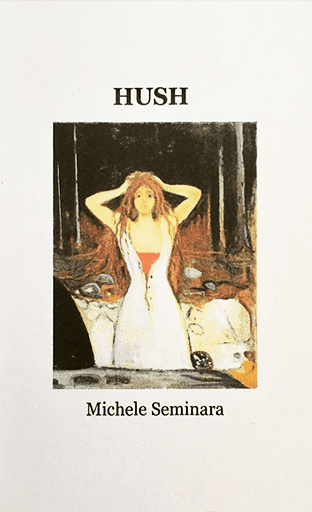 HUSH, a chapbook, is published by the small Australian Blank Rune Press. The publisher, Valli Poole, was a dream to work with—she's so passionate and particular about what she does, and as a result the books (which she hand-makes) are exquisite.
Blank Rune only do a very limited print run, and Valli has told me HUSH has almost sold out. But I have a few copies to sell, so if you'd like one, please get in touch. They're $12 (including postage).
Here's a little taster.
HUSH
You're bloated and there is
fear in your gaze.
You've demanded the right
to be this way and I
have acquiesced.
Mirtazapine bought no peace.
Food wrappers, razor blades, beer bottles, bong.
Your body is an energy pushing
pain into a form which it commands
the world to witness —
I witness you.
I look into your eyes and whisper
— with my eyes — I see you.
Bitch, you shoot, from the dark side of your mouth,
your head in chaotic orbit.
I'm whatever you need me to be, baby.
Let's croon the moon to sleep like we used to.
Hush.